When Hollywood actor, comedian and animal welfare activist, Ricky Gervais awarded the PDSA Gold Medal earlier this month to a 6-year-old Belgian Malinois working in the Kruger National Park, the world was introduced to a four-legged superhero. With 115 arrests under his collar, K9 Killer is South Africa's most successful anti-rhino poacher-tracking dog and a key member of the Kruger's anti-poaching task force.
However, Killer's success story didn't start in the African bushveld. In fact, it started over 9000km away in Europe.
On the run
According to his trainer, Henry Holsthyzen, Killer first got a taste for upholding the law in Belgium, where authorities employed him to track explosives. Being of police dog lineage, Killer proved to be so successful at his job that a bounty was placed on his head. With people out to kill him, Belgian authorities rallied to protect him and decided to place Killer in an exchange programme for his own protection.
New home sweet home
The Paramount Anti-Poaching and K9 Academy near Johannesburg was chosen as Killer's new home. It was here that Academy head and former police man, Holsthyzen spent months training him for his new assignment at the Kruger National Park.
With a keen tracking ability, high energy drive and natural aggression, Killer was perfect for working in the Park and was taught how to identify scents, follow trails and to attack.
Catching poachers
Killer works very closely with his handler, Amos Mzimba, and the two have been known to go the extra mile to find their man. When poachers are spotted, Killer and Amos are loaded into a helicopter and flown to the location to begin tracking, sometimes for as long as 8km at a time. It is extremely dangerous work as many of the poachers are trained gunmen who often respond with gunfire when threatened.
One such incident took place in the infamous Bangu area, close to the border with Mozambique. Killer and Amos were deployed with a 4-man team to track the poachers, but got separated from their team when gunfire broke out. The two kept at it and Killer eventually tracked the poachers to the bottom of a cliff. Here Amos shouted for them to surrender, but was met with heavy gunfire which nearly cost him his life. He was able to return fire and eventually succeeded in apprehending the two suspects.
PDSA recognition
Killer's unbelievable bravery and his massive contribution to rhino conservation efforts is what brought him to the attention of the PDSA – a leading UK-based veterinary charity. This year, on 6 January, the organisation awarded Killer with the PDSA Gold Medal – the highest accolade a civilian animal can receive, which recognises remarkable bravery and dedication to duty – making him the 24th recipient worldwide since the award's 2001 inception.
The fight continues
Accolades and media recognition aside, Killer and the rangers of the Kruger National Park still have quite the fight ahead of them. Last year the park saw an increase of 27% in poachers, with about 3 incursions taking place per day.
Killer's success is a bit of good news amongst the bad, and has led to plans to significantly boost the number of dogs in the park's canine programme. If successful, Killer and dogs like him could become integral to bringing poachers to justice and saving South Africa's remaining rhinos from extinction.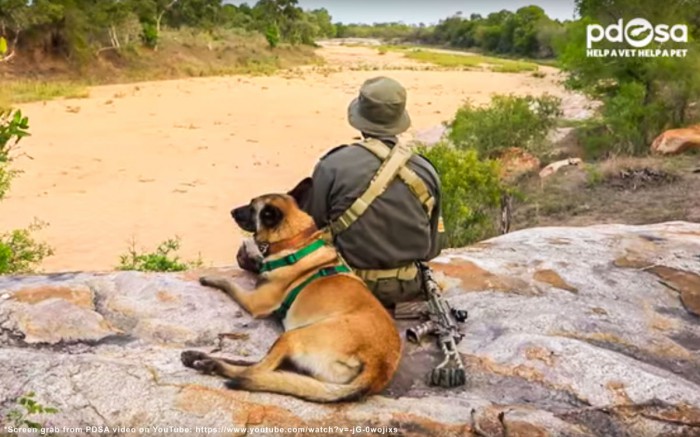 Video Link: https://www.youtube.com/watch?v=-jG-0wojixs
Image credits: PDSA – screen grabs from https://www.pdsa.org.uk/press-office/latest-news/2016/01/06/pdsa-gold-medal-k9killer