Every month at JOCK, we celebrate the unsung heroes, both dogs and humans, who make a difference in changing the lives of others and inspire us. With Mandela Day on the 18th of July, we thought we'd remind you of one of our biggest heroes working at the SPCA in Centurion. But more importantly, remind you that change can start with something really small: the seed of inspiration inside every one of us.
There is a well-known quote of Mahatma Gandhi, the human rights activist and statesman:
"The greatness of a nation and its moral progress can be judged by the way in which its animals are treated." It's a profound statement, and one with far-reaching implications about human's interactions with other living beings. If there is one woman who has made this insight a part of her everyday life, it's Christina Masemola, the team leader at the Centurion SPCA in Gauteng. For 18 years now, she has been passionately working to improve the lives of the animals under her care.
As a brand, we have been privileged to work alongside Christina on various initiatives. Currently, we are partnering with Christina to re-do the screed on 40 kennels at the Centurion SPCA. With the recent outbreaks of Distemper and Parvovirus, this is crucial as cracks in concrete can become traps for germs. Although this sounds like a pretty straightforward gesture, it perhaps shows how contributing in a seemingly small, mundane way, can make a big difference, often having consequences far into the future.
Nelson Mandela's life, of course, is an example of the way seemingly simple actions can inspire not just a country but the whole world. When one reads about Mandela, it's stories about his interactions with ordinary people that are often documented and retold. By the way, few people know, but Madiba actually owned a dog before he went to prison, when he lived at the now famous 8115 Vilakasi Street in Soweto. The dog was a big, strong Rhodesian Ridgeback named Gompo. Perhaps the perfect dog for him as the Southern African breed's heritage, is a mix between the Khoikhoi's hunting dogs and the large dogs Europeans brought to South Africa — the perfect symbol of his dream of a nation of diverse origins united.
Getting back to Mandela Day itself — the original idea behind Mandela Day is also a simple one. Yet one which holds enormous potential for change. If every person spent 67 minutes (Mandela fought for justice for 67 years) of their time to help others, imagine the difference we can make. And this is why we want to pay tribute to you, our loyal JOCK customer this month. To say thank you for the difference you've been making in your dog's life, other dogs' lives and the lives of people around you. And to say: let's keep going!
If you haven't decided how you want to spend your Mandela Day, the Centurion SPCA is a great place to start. Contact Christina herself and tell her how you can get involved.
Christina Masemola
Manager
SPCA Tshwane-Centurion branch
012 664 5644 (T)
012 664 4661 (F)
www.spcapta.org.za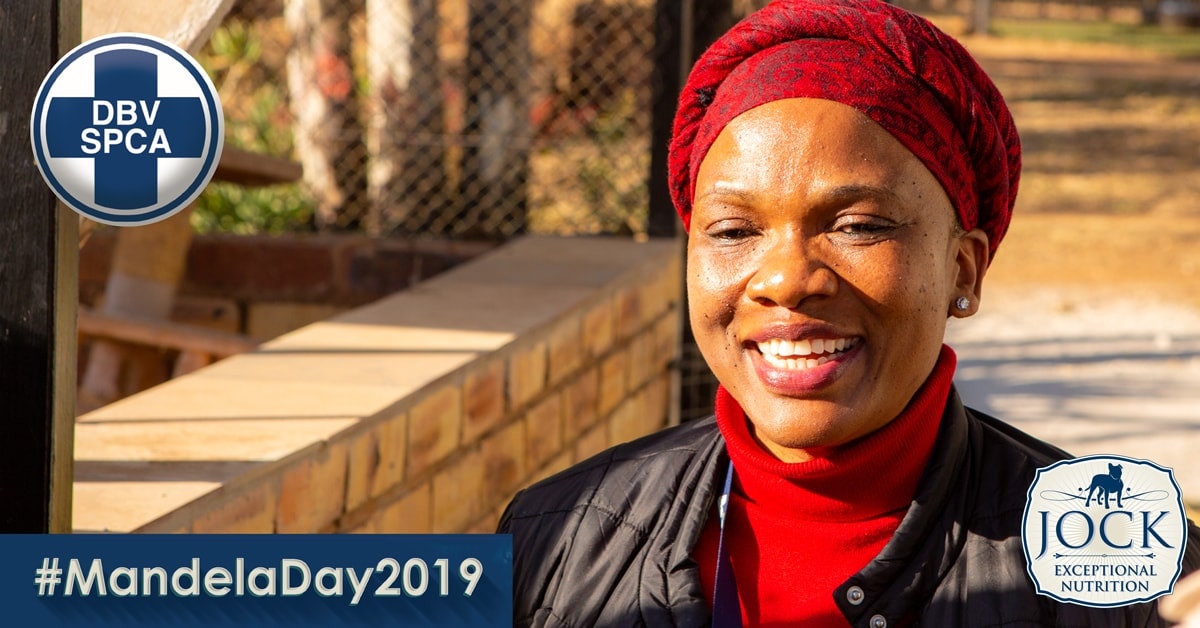 [embedsocial_album id="545ccb642593595af657e856c988259826fa574d"]